About ACTRI
The VISION of the UC San Diego Altman Clinical and Translational Research Institute (ACTRI) is to translate scientific discoveries into improved health.
Our MISSION is to facilitate the research of others by providing resources, training, and collaboration opportunities for ACTRI scientists, health care providers, and the community.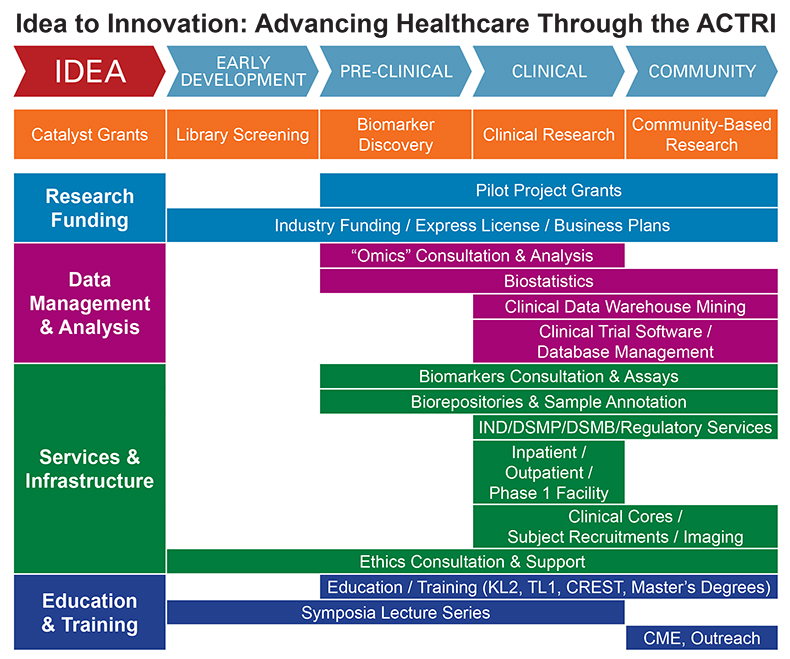 What is translational research?
Translational research is research aimed at translating results in basic research into results that directly benefit humans. Scientists have ideas about something they would like to test out, and they seek resources for experiments. Most experiments start in the laboratory and this is called "basic research". Many new treatments are tested in animals before any humans are permitted to try them out. And even then, many types of experiments need to be done before a new medical device or treatment is approved for regular use by your doctor and other clinicians. The phrase "translational research" is all the steps in this process.
Even after a new medical treatment is available for use, translational research is not always complete because researchers try to get feedback from patients and their doctors and try to make the treatment even better. Promoting the new treatment to patients, health insurance companies, public health departments, and doctors is often also part of "translational research".
Translational research involves moving knowledge and discovery gained from the basic sciences to its application in clinical and community settings. This concept is often summarized by the phrases "bench-to-bedside" and "bedside-to-community" research.
For translational research to be successful, communication must be bi-directional. In other words, many different people have to talk—and listen—to each other: basic researchers and clinical researchers; clinical researchers and human volunteers; patients and their doctors in their communities; and community doctors and clinical researchers.
What does the ACTRI have to do with translational research?
The ACTRI is part of a national Clinical and Translational Science Award (CTSA) consortium created to accelerate laboratory discoveries into treatments for patients by facilitating research resources for all investigators. The CTSA program is led by the National Institutes of Health's National Center for Advancing Translational Sciences (NCATS).
The main goal of the ACTRI is to make our research discoveries more rapid, effective, and useful to the general public. We improve health care by providing scientists and community leaders with resources and information, and we encourage interactions between all those different people mentioned above. We also offer many educational programs for scientists, students, and the public. Those are some of the ways we try to help speed up the translation of great ideas into great therapies.
The Translational Science Partnership was established as a coordinating center to develop new pathways for clinical investigators to collaborate with basic science researchers outside UC San Diego and to provide new tools for basic scientists across the San Diego region to translate discoveries into new treatments. To accomplish these goals, we have established partnerships with other universities, health care providers, biomedical research organizations, and nonprofit organizations (see below) to do the following:
Develop programs to foster collaboration and resource-sharing, and decrease barriers to interaction.
Facilitate technology transfer and development of novel therapies with our partner institutions and industry.
Click here to learn more about the different affiliation types (Collaborator and Partner) and benefits.
Partner Research Institutions
Eisenhower Health
Salk Institute
Sanford Burnham Prebys Medical Discovery Institute
La Jolla Institute for Allergy and Immunology
J Craig Venter Institute
Rady Children's Hospital - San Diego
VA San Diego Healthcare

Palomar Pomerado Health
National Consortium
The ACTRI is partially funded by a Clinical and Translational Science Awards Program (CTSA) grant from the National Institutes of Health. The mission of the CTSA program is to accelerate discoveries toward better health. The CTSA is a highly competitive, 5-year grant that helps awardees translate research discoveries into commercially available drugs and devices for prevention, diagnosis, or treatment of human diseases and disorders. As the CTSA-funded institutes carry out this mission, we can expect to see an increase in research efficiency, an enhancement in the education of our trainees, and the breaking down of barriers, such as red tape and silo culture, that delay the progress of candidates to market.
UC BRAID
The deans of the five UC medical campuses, in collaboration with the University of California Office of the President (UCOP), have launched an initiative to identify policy changes and areas of collaboration in order to accelerate biomedical research across the campuses. The initiative was named the "UC Biomedical Research Acceleration, Integration, and Development" (UC BRAID) program.
Four initial areas of attention have been identified—Contracting, Informatics, IRB, and Metrics—and working groups have been developed to identify short- and long-term solutions to shared challenges in each of these areas. The groups work diligently to identify policy changes, new infrastructure, or processes that will reduce the barriers to clinical and translational research for each institution, individual researchers, and external partners.
UC BRAID is led by an executive committee of the CTSA Principal Investigators at the San Diego, Los Angeles, Irvine, San Francisco, and Davis campuses. The committee reports to UCOP, and is charged with: 
Coordinating activities across the biomedical campuses and at the Office of the President to support acceleration of biomedical research
Evaluating priorities for projects that meet UC BRAID program goals
Establishing task forces and subcommittees to address priorities
Making funding recommendations to the deans and UCOP
Click here for more information.
Gary S. Firestein, MD, Director of ACTRI
Distinguished Professor of Medicine
Senior Associate Vice Chancellor for Health Sciences at UC San Diego
transmed@health.ucsd.edu
Phone: (858) 822-0591
Gary S. Firestein, MD, is director of the Altman Clinical and Translational Research Institute and the senior associate vice chancellor for health sciences at UC San Diego. Dr. Firestein joined the faculty at UC San Diego School of Medicine as assistant professor of Medicine in 1988. Four years later, he was recruited by Gensia, Inc. to be director of immunology, where he supervised drug discovery efforts focusing on the potential role of purines in inflammation.
In 1996, he returned to UC San Diego where he served as chief of the Division of Rheumatology, Allergy and Immunology from 1998 until 2010. In 2008, he became the dean of Translational Medicine. In 2010, he became associate vice chancellor of translational medicine and director of the newly established ACTRI, which is funded in part through the NIH Clinical and Translational Science Awards (CTSA) Program. In 2020, the ACTRI was awarded its third consecutive successful NCATS CTSA U54 Award under Dr. Firestein's leadership, with an additional $55 M over the next 5 years dedicated to the advancement of clinical and translational science. In 2020, he was named senior associate vice chancellor for health sciences.
He is the co-founder of lgnyta, Inc., a biotech company that went public in 2015 and was acquired by Roche in 2018. Its lead drug entrectinib was approved by the US Food and Drug Administration for certain cancers. He is the co-creator of the University of California CTSA consortium called UC BRAID and served as its chairperson from 2013-2015. During his career, Dr. Firestein has served as the principal investigator on grants totaling more than $150 million in research funding, including numerous NIH and commercial-sponsored research grants and clinical trials.
Dr. Firestein's research interest focuses on the pathogenesis and treatment of rheumatoid arthritis. He was among the first to map the cytokine profile of RA and demonstrate the dominance of macrophage and fibroblast products. These studies played a pivotal role in the development of highly effective anti-TNF and other anti-cytokine therapies for RA.
More recently, his research has included studies to evaluate immune dysfunction in individuals at risk for developing rheumatoid arthritis. His Google Scholar H index is 109 with over 50,000 citations. Dr. Firestein has received the Carol-Nachman Prize for Rheumatology, the Arthritis Foundation Lee C. Howley Sr Prize for Arthritis Research, the American College of Rheumatology (ACR) Distinguished Investigator Award, and the Jane Wyman Humanitarian Award. He has been elected to the American Society for Clinical Investigation and the Association of American Physicians and holds a Doctor of Science (hc) from University of Glasgow, awarded in 2019. Most recently, he was elected as a Master of the ACR and as a Fellow of the American Association for the Advancement of Science (AAAS).
Dr. Firestein has served as editor and then the editor-in-chief of Firestein and Kelley's Textbook of Rheumatology from the 7th through 12th editions. He has written over 400 articles and book chapters, and is past deputy editor of Arthritis & Rheumatism. Dr. Firestein is past chairperson of the FDA Arthritis Advisory Committee and has served on the Board of Directors of the American College of Rheumatology (ACR), ACR Research and Education Foundation, as chairperson of the ACR Committee on Journal Publications, on the ACR Committee on Research, on the Arthritis Foundation Research Committee, on the Board of Directors for the Veteran's Medical Research Foundation, and on the NIH National Institute of Arthritis and Musculoskeletal and Skin Diseases (NIAMS) Advisory Council.
View Dr. Firestein's Bio Page
View Dr. Firestein's Wikipedia Page
---
David Boyle
Co-Director of ACTRI Translational Research Technology (TRT) Division
ACTRI Executive Committee Member
dboyle@ucsd.edu
Phone: (858) 822-0784
Since joining the ACTRI leadership team in 2010, David Boyle, along with Translational Research Technology (TRT) co-director Paul Mills, has guided the TRT Division and transformed it into a one-stop shop of flexible laboratory-based services for translational studies. Under his leadership, the TRT laboratories have provided services for 99 biomarker projects, performed more than 18,000 biomarker assays, and processed more than 19,000 biosamples. In the past two years, Boyle has been instrumental in creating novel programs that integrate services to support molecular methods in clinical trials. He also oversaw the creation of the ACTRI-Cancer Center Biorepository, which is among seven individual biorepositories for UC San Diego investigators hosted by TRT, and the Rady-UC San Diego breast milk research repository. He collaborates with our partners on campus and beyond, including the Moores Cancer Center, Rady Children's Hospital-San Diego, and the San Diego Blood Bank. He is key personnel at UC San Diego on the UC San Francisco subaward for biorepositories, "Engaging University of California Stakeholders for Biorespository Research." A major focus is applying rigorous criteria for assay development and validation to small solid tissue samples in a clinical trial setting.
David Boyle is a Professor of Medicine in the Division of Rheumatology, Allergy and Immunology at UC San Diego. His research has focused on inflammation of joint tissue, the role of the fibroblast-like synoviocyte and the pathogenesis of rheumatoid arthritis. He is an internationally recognized researcher in the development and application of biomarker analysis to clinical research, in particular, synovial pathology in rheumatoid arthritis.
---
Christina Chambers, PhD, MPH
Professor of Pediatrics at UC San Diego and Director of Clinical Research, Department of Pediatrics at UC San Diego and Rady Children's Hospital
ACTRI Executive Committee Member
chchambers@ucsd.edu
Phone: (858) 246-1704
Christina Chambers, PhD, MPH, joined the ACTRI Executive Committee in 2012. Dr. Chambers is a professor of pediatrics at UC San Diego and director of Clinical Research for the Department of Pediatrics at UC San Diego and Rady Children's Hospital-San Diego (RCHSD). She has been instrumental in smoothing the interactions between researchers at UC San Diego and Rady Children's researchers, working closely with ACTRI's Mark Wallace, and in establishing a research-only breast milk biorepository at UCSD/Rady Children's, along with ACTRI's David Boyle.
Dr. Chambers is a perinatal epidemiologist whose research is focused on environmental exposures and pregnancy and child health outcomes. She co-directs the UC San Diego Center for the Promotion of Maternal Health and Infant Development, and leads a number of national and international clinical research projects addressing medication and vaccine safety in pregnancy. She has conducted extensive research on improved diagnosis, prevention and treatment for Fetal Alcohol Spectrum Disorders. Dr. Chambers received a PhD in public health/epidemiology in 2002 from the joint doctoral program at UC San Diego and San Diego State University. She is the author of more than 100 research publications and has served as president of the US Teratology Society, as well as president of the North American Organization of Teratology Information Services.
---
Colin Depp, PhD
Director of ACTRI Education, Training and Career Development
ACTRI Executive Committee Member
cdepp@ucsd.edu
Phone: (858) 822-4251
Colin Depp, PhD, is an associate professor in the Department of Psychiatry at the UC San Diego School of Medicine, a faculty member at the Sam and Rose Stein Institute for Research on Aging at UC San Diego and a staff psychologist in the VA San Diego. He became director of ACTRI's Education, Training and Career Development Unit in 2014, after serving as associate director of the unit from 2011 to 2014. He has spearheaded multiple ACTRI initiatives, including the Mentoring Core, research published on training methods, the Clinical Research Enhancement through Supplemental Training-Master of Advanced Studies (CREST-MAS) behavioral science curricula and the Day of Translational Science symposium. Dr. Depp has extensive experience in collaborative interventional research in the area of mental health and wireless technology, receiving continuous funding from NIH, VA, foundation and other sources for 10 years. He leads a multidisciplinary research group comprised of clinicians, clinical trialists, behavioral scientists, community health workers, biostatisticians, software engineers and patient stakeholders. An accomplished translational researcher, teacher and clinician, Dr. Depp has mentored more than 40 trainees through epidemiologic, translational, randomized, interventional and implementation science studies. Dr. Depp has served on multiple editorial boards, NIH and international review panels and collaborative networks, and has published more than 130 peer-reviewed articles, book chapters and commentaries.
Dr. Depp received a bachelor's degree from the University of Michigan and a PhD in clinical psychology from the University of Louisville. He then completed a pre-doctoral internship at the Palo Alto Veteran's Administration and a National Research Service Award post-doctoral fellowship in the Division of Geriatric Psychiatry at UC San Diego.
---
Kathryn A. Gold
Co-director of the ACTRI Division of Clinical Research Services (CRS)
Dr. Gold co-leads the CRS with Mark S. Wallace, MD, who has served as director of the division since 2010. Dr. Gold joined ACTRI as associate director of CRS in July 2017. Dr. Gold co-directs the day-to-day functions of the unit, which manages a dedicated research clinic, voucher applications and the Scientific Review Committee. The research clinic includes 18,000 square feet of state-of-the-art facilities to support all phases of clinical research and presently supports nearly 300 clinical research projects each year.

Dr. Gold is an associate professor at UC San Diego Department of Medicine and board-certified in internal medicine and medical oncology. Her clinical and translational research interests include lung and head and neck cancer, with a focus on target therapies and immunotherapies. Prior to joining UC San Diego Health, Dr. Gold was an assistant professor in the Department of Thoracic/Head and Neck Medical Oncology at The University of Texas MD Anderson Cancer Center in Houston. Dr. Gold completed a fellowship in medical oncology at MD Anderson Cancer Center, where she was selected for her clinical and leadership abilities to serve as chief fellow. She completed a residency in internal medicine at Hospital of the University of Pennsylvania in Philadelphia. Dr. Gold received her medical degree from Washington University School of Medicine in St. Louis. Dr. Gold has presented her work at both national and international medical conferences. She has coauthored many articles, and her research has appeared in The Lancet Oncology, the Journal of the National Cancer Institute, and The New England Journal of Medicine, among others. She is a member of the American Society of Clinical Oncology, the American Association of Cancer Research and the International Association for the Study of Lung Cancer.
---
Michael Hogarth, MD
Director of ACTRI Biomedical Informatics
ACTRI Executive Committee Member
Michael Hogarth, MD, joined the ACTRI Executive Committee in 2017. Dr. Hogarth is the Clinical Research Information Officer (CRIO) at UC San Diego Health and the director of the Altman Clinical and Translational Research Institute (ACTRI) Biomedical Informatics unit, and is part of the Department of Medicine and the Health Department of Biomedical Informatics (DBMI). Prior to joining UC San Diego Health, he served as Professor of Clinical Medicine and Vice-chair for Informatics in the Department of Pathology at UC Davis. As CRIO, Dr. Hogarth leads efforts to align and integrate resources in Information Services with clinical research informatics, including ACTRI services. He also develops and optimizes strategies to use our current technology and systems to support the integration of research with patient care, including the use of the electronic medical record (EMR) for clinical trial recruitment and EMR data for observational research.
Dr. Hogarth graduated from the biomedical engineering program at Texas A&M University and received his medical degree from the University of Texas-Southwestern. He completed a medical informatics fellowship at UC Davis. Dr. Hogarth is board certified in internal medicine. He is highly experienced in EMR systems and on ways to optimize them to serve the needs of clinicians. Dr. Hogarth's research relates to health information technology, with particular interests in clinical research, biomedical natural language processing, and databases. He has won the prestigious UC Sutter award for innovations in information technology and serves as an expert consultant for several projects. He is a co-founder of the UC-Research eXchange (UC-ReX) consortium and is an elected member of the American College of Medical Informatics. Dr. Hogarth has developed novel approaches to biomedical data modeling and natural language processing. He teaches in the informatics curriculum and advises trainees in the ACGME-accredited fellowship in clinical informatics, biomedical informatics tracks of various graduate programs, and in the UC San Diego Health DBMI internship program for undergraduate and high school students. Together with faculty from the School of Medicine, Skaggs School of Pharmacy and Pharmaceutical Sciences, and Jacobs School of Engineering, Dr. Hogarth is helping to develop and implement the Master's program in Clinical Informatics at UC San Diego.
---
Eric Mah
Assistant Dean for Clinical and Translational Research 
ACTRI Executive Committee Member
emah@ucsd.edu
Phone: (858) 822-4700
Eric Mah joined the ACTRI Executive Committee in 2015. He is the Assistant Dean for Clinical and Translational Research at UC San Diego. Mah is responsible for clinical research administration across Health Sciences and has administrative oversight of the clinical research administrative core units, including the ACTRI, the Office of Clinical Trials Administration (OCTA), the Office of Coverage Analysis Administration (OCAA), and the Human Research Protections Program (HRPP). He is also responsible for ACTRI affiliations and strategic and operational management. Mah has extensive experience in research administration and compliance. Prior to joining UC San Diego, he served as senior director of research compliance at UC San Francisco and program director of regulatory, knowledge and support for UCSF's Clinical and Translational Science Institute. In these positions, including regulatory director for UC BRAID (a consortium of the five UC academic medical centers), Mah provided guidance and direction to address research compliance regulations and policies in clinical research. He was responsible for identifying emerging issues, leading projects and process efficiency redesigns, coordinating internal and external communications, and ensuring that regulatory matters were managed in a timely and appropriate way.
---
Murray Stein
Co-Director of ACTRI Translational Research Alliance
ACTRI Executive Committee Member
mstein@ucsd.edu
Phone: (858) 534-6451
Murray Stein, MD, MPH, joined the ACTRI Executive Committee in 2016. Dr. Stein is a Distinguished Professor of Psychiatry and Family Medicine and Public Health at UC San Diego. He has successfully led the ACTRI Pilot Project Program since 2012 and has demonstrated remarkable strength in helping ACTRI create infrastructures that facilitate collaboration and actively bring various groups together. He continues to have oversight of the pilot program. In addition, he serves as the faculty lead for the UC Cures for Alzheimer's Initiative RFA launched in early 2016 by the University of California.
Dr. Stein is also a staff psychiatrist at the VA San Diego Healthcare System. He graduated from the University of Manitoba and completed his residency and post-residency fellowship at the University of Manitoba, the University of Toronto and at the National Institute of Mental Health in Bethesda, Maryland. He subsequently completed a master of public health degree at the Johns Hopkins University Bloomberg School of Public Health in Baltimore.
Dr. Stein's research interests include the epidemiology, neurobiology, and treatment of anxiety and trauma-related disorders, especially social phobia, panic disorder, and post-traumatic stress disorder. He has written or co-written over 550 peer-reviewed scientific articles on these topics, including in journals such as Journal of the American Medical Association, New England Journal of Medicine, The Lancet, American Journal of Psychiatry, and JAMA Psychiatry. His federally funded research has included studies of interventions for anxiety disorders in primary care, pharmacological approaches to treatment-resistant anxiety and stress-related disorders, and functional neuroimaging research in anxiety and trauma-related disorders. Dr. Stein is Co-Editor-in-Chief for UpToDate in Psychiatry, and Deputy Editor for the journal Biological Psychiatry. He is a member of the Scientific Advisory Board of the Anxiety and Depression Association of America (ADAA) and the Brain and Behavior Research Foundation (BBRF), and a Fellow of the American College of Neuropsychopharmacology (ACNP).
---
Mark Wallace, MD
Director of ACTRI Division of Clinical Research
ACTRI Executive Committee Member
mswallace@ucsd.edu
Phone: (858) 822-0776
Mark Wallace, MD, joined the leadership team at ACTRI in 2010 and has overseen the establishment of the ACTRI Center for Clinical Research (CCR), including the opening of a Phase I clinical trials unit with an investigational pharmacy. Dr. Wallace has been responsible for extensive growth in the CCR, which provides assistance with study design and biostatistics analysis, nursing and clinical coordinator services, and regulatory and pharmacy services. He has overseen the growth of the clinical coordinator core from two coordinators to 11, and the biostatistics team from 1.5 to four. With the help of Christina Chambers, he also has been instrumental in establishing a larger ACTRI presence at Rady Children's Hospital and is currently on a steering committee to streamline the clinical trials application process.
Dr. Wallace is the Chair, Division of Pain Medicine in the Department of Anesthesiology of University of California at San Diego, which is actively involved in clinical care, teaching, and research. A nationally recognized lecturer on pain medicine, he has extensive experience in all aspects of pain management and is involved in numerous ongoing clinical trials for the management of pain, including acute, chronic, and cancer related pain. Under his direction the UCSD Center for Pain Medicine has received the American Pain Society Center of Excellence Award in 2010 and 2014. His research interests include human experimental pain, spinal drug delivery, and the use of the cannabinoids in pain management. Dr. Wallace earned his medical degree at Creighton University School of Medicine in Omaha, Nebraska. He then completed an internship in general surgery at the Washington Hospital Center in Washington, DC, a residency in anesthesiology at the University of Maryland, and a Fellowship in Pain Medicine at UCSD Medical Center. He has authored and coauthored more than 180 articles, abstracts, books, and book chapters concerning pain research and management. Dr. Wallace is an associate editor of The Clinical Journal of Pain and sits on numerous other editorial boards.
Finance
The ACTRI Finance team coordinates all aspects of fiscal affairs for the ACTRI. The team works closely with the UC San Diego Office of Contracts and Grant Administration, Health Sciences Sponsored Project Pre-Award Office, and the Office of Post Award Financial Services and acts as the point of contact for all fiscal matters pertaining to awards to ACTRI.
Communications
The ACTRI Communications team leads efforts to increase awareness and understanding of the Institute and its work. With a focus on audiences that include researchers, the broader UC San Diego community, industry and community partners, and the over 50-member CTSA national consortium, this team works collaboratively with ACTRI program representatives to identify priorities, to encourage cross-program communication and promotion, and to amplify news, science advances, and successes.
Human Resources
The School of Medicine has transitioned to a central services model for Human Resources support. These services include:
Benefits – answering questions and providing general support
Compensation Analysis
Funding Changes
Job Description – composition, analysis, advising, classification
Leaves of Absence
New Hire Orientation
Recruitment – job posting, applicant screening, compensation analysis, offer facilitation
Timekeeping & Paycheck – answering questions and providing general support
Postdoctoral Scholars and Visas
General Employee Relations Advising
What this means for managers and supervisors…
Managers and supervisors will submit HR inquiries and requests through the Service Core contact mechanisms listed above. An e-mail into myHSHR@ucsd.edu or the submission of a myEAR request will trigger the creation of a case in our Case Management system. You will notice e-mail responses from this e-mail account and also a Case # indicated in the subject line. A Service Core representative/specialist will be assigned to your case and will reach out to you to complete the action.
ACTRI Evaluation
ACTRI's Planning, Evaluation & Tracking team supports the Institute's programs and leadership in efforts to develop goals, targets and relevant metrics of success, assesses progress toward those goals, and improves performance and management. ACTRI Evaluation unit uses an integrated "Balanced Scorecard-Monday" platform as a framework for program and institute planning.
The overall goals for Evaluation unit include:
Creating a more strategic organization which establishes greater alignment between program and institute-wide priorities and activities
Establishing a culture of transparency and accountability
Building a data and metrics-driven organization
The vision of the Evaluation team is to work hand in hand, and in partnership with other programs to support efforts to achieve success. We invite all programs across UCSD, UCSD Health Sciences, and UCSD Health to contact us to hear how we can support their needs.
Information about Recharge Rates Click Here.
Evaluation Support
Evaluation Design for Grant Proposals
Developing Logic Models and Evaluation Plans for projects.
Specifying and refining the specific aims.
Providing letter of support for grant proposals as consultants, or co-investigators.
Help with reviewing and resolving proposal reviewer comments regarding evaluation of the project.
Evaluation for Ongoing Projects
Designing questions/surveys.
Provide consultation on evaluation content including what to evaluate and how.
Providing support for outcome assessments and process monitoring needs.
Help with reviewing and resolving IRB comments regarding evaluation of the study.
Evaluating both quantitative and qualitative data on Qualtrics and Redcap.
Publication and Dissemination
Evaluation of the projects based on existing data.
Preparation of executive summaries and reports.
Editing and preparing evaluation sections for abstracts and manuscripts for publications.
Responding to journal reviewers regarding evaluation of the study.
Evaluation Contacts
Daniel Bouland, MD, MS, FACP
Director of Evaluation at ACTRI
Health Sciences Clinical Professor of Medicine
Vice-Chair, Cli
nical Operations
Department of Medicine
Maryam Gholami, MA, PhD
Senior Manager of Evaluation
Clinical Research Strategic Initiatives (CRSI)
Altman Clinical and Translational Research Institute (ACTRI)
UC San Diego Health
mgholami@ucsd.edu
Location & Contacts
ACTRI Office:
Email: CRSI-Navigator@health.ucsd.edu
ACTRI Research Clinic:
Front Desk: (858) 534-1251
Mailing Address:
Altman Clinical and Translational Research Institute Building
9500 Gilman Drive, MC 0990
La Jolla, CA 92093-0990
Physical Address:
Altman Clinical and Translational Research Institute Building
9452 Medical Center Drive
La Jolla, CA 92037
Click here for larger, printable map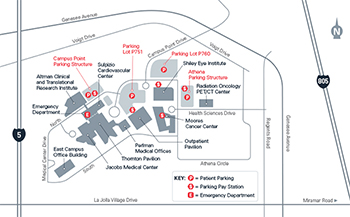 For help with this website, please submit your question here.
Become a Member
Join ACTRI for free in order to use the many services offered to researchers from UC San Diego, Salk Institute, La Jolla Institute for Immunology, J. Craig Venter Institute, Sanford Burnham Prebys Medical Discovery Institute, Rady Children's Hospital, Eisenhower Health and the VA Medical Center.