Biomedical Informatics
BMI offers data management and biomedical informatics services in support of clinical and translational research. The Data Extraction Concierge Service (DECS) is the institutional provider of EHR data for research. BMI supports key applications including real-time cohort exploration (ACT, TriNetX), an electronic data capture system (REDCap), compliant clinical trial management systems, a biospecimen information management system (Velos), and Data Warehouses for Research (UCHDW) with data from over 1 million patients. Investigators receive data and analyze it in an ACTRI-managed secure research cloud through a personalized Virtual Research Desktop.
REQUEST Biomedical Informatics (BMI) SERVICES
The BMI team provides a wide range of data services to assist with research by supporting software for managing clinical trials and observational studies, as well as tools to query clinical records. These tools can help at all stages of the study:
Cohort identification: ACT, DECS, TriNetX, UCHDW
Data collection: ARMOR, DECS, REDCap, UCHDW, Velos, VRD
Results analysis: REDCap, Tableau, VRD
Results storage: REDCap, Velos, VRD
NIH Requirement for a Data Management and Sharing Plan
As part of their effort to promote the management and sharing of data generated from NIH-funded research, the NIH will require all NIH-supported research generating scientific data to include a Data Management and Sharing Plan (DMSP). The policy applies to prospective grant/contract applications submitted on or after January 25, 2023.
For more information, please visit the NIH Data Sharing Policy Update posted by the UCSD Library
Health Data Oversight Committee
What is the Health Data Oversight Committee (HDOC)?
The UC Office of the President has established a formal process to actively manage requests to share UC health data with third parties. The policy requires a UC Health campus committee to handle data sharing requests according to UCOP guidelines. The UCSD Vice Chancellor of Health Sciences has established the UCSD Health Data Oversight Committee (HDOC) to perform this function.
When do I need HDOC approval?
If you are requesting to share "health data" from UCSD Health as part of research with any third party, regardless of whether the data is identified or de-identified. 
How is  "health data" defined in the policy? 
"Health Data" includes two categories: Source Health Data, which is the primary and original data set, and Derived Health Data, which represents some transformation of the original source data. Source Health Data is any information pertaining to the health, care, and treatment of UC Health patients and plan members which: 
Results in a report used in treatment or monitoring of a patient OR; 
Generates a claim or bill for services provided OR; 
Is used for operations, financial management, population health activities, or quality metrics. 
Derived Health Data
is any derivation of source Health Data irrespective of how trivial or complex the derivations may be.
Exclusion: 
For purposes of these guidelines, research data created exclusively for a sponsored clinical research study pursuant to Institutional Review Board (IRB) approval and collected pursuant to a patient authorization or consent that is approved by the IRB is not Health Data. Disclosure of such research data to the sponsor would be governed by law and existing UC policy, not these guidelines. However, instances of such data that are contained in the medical record (in whatever form) are Health Data within the scope of this governance framework and require HDOC review and approval.
In addition, clinical trial data that is considered excluded from the Health Data definition and out of scope is limited only to the data acquired as part of the IRB‐specified clinical trial. Any other Health Data associated with the subjects participating in that clinical trial will be considered Health Data as defined above. Research data that is generated pursuant to a protocol that is exempt or excluded from full IRB review, or involves a waiver of authorization, will be considered Health Data and within scope of this governance framework. 
How do I request HDOC review and approval?
Complete this form. If you have any questions, please contact the HDOC Committee Chair, Dr. Hogarth – mihogarth@health.ucsd.edu
How long does it take? 
This often depends on the nature of the sharing (identified vs. de-identified data).  HDOC committee meets monthly but often adjudicates low-risk requests (ie, de-identified data to be shared with another academic institution) through an expedited process. The average turnaround time for most requests is 1-2 weeks.

Do I need to do anything else once I have HDOC approval?  
Yes, data sharing with an external entity requires a data use agreement (DUA) between UCSD and the external entity. This is done by the Office of Contracts and Grants (OCGA). OCGA staff work closely with the committee and often coordinate requests to HDOC for data sharing. Contact OCGA (ocgainfo@ucsd.edu) as soon as you are aware that the research project will require data sharing with an external entity. 
Do I need HDOC approval to share data with another UC Health campus?
No, sharing of health data between UC campuses is accomplished through an intra-UC process managed locally by the Office of Grants and Contracts (OCGA).
What if I have questions or need assistance with my HDOC request?
Please contact the HDOC committee Chair, Dr. Hogarth – mihogarth@health.usd.edu

ACT is a network of sites from the National Clinical and Translation Science Award (CTSA) Consortium. ACT network allows researchers to explore and validate feasibility for clinical studies across CTSA sites. ACT network has been created to harmonize EHR of each site linked by the Shared Health Research Information Network (SHRINE). ACT provides investigators the ability to design and obtain aggregated counts of patients to identify eligible participants under specific inclusion and exclusion criteria. The real-time query of ACT network to diverse CTSA sites across the United States significantly increases efficiency of clinical studies.
The ACT network currently connects 39 participated CTSA sites, including all 5 UC medical centers, and more than 100 million patients. More sites are joining and at staging status.
For more information visit the ACTRI ACT Portal.
Access
To request access to the ACT Network, visit the ACTRI ACT Portal.
Click the Register for ACT button on the upper-right of the page.
Complete all the fields required (*)
Once approved, users can login to ACT web client, https://shrine-act.ucsd.edu/shrine-webclient, using AD credentials to start exploring the platform.
The ACT Interface
The user-friendly ACT SHRINE query interface is shown as the following. It simply consists of 4 panels. The Terms panel allows investigators to search the information of Demographics, Diagnosis, Laboratory tests, Medications, Procedures, and Visit details. The defined inclusion/exclusion criteria can be dragged and dropped to numerous groups on the Query Tool panel. Each group enables independent criteria date range and times of occurrence. The current and previous query results are shown in the lower panels. In addition, ACT allows aggregate count breakdown for patient age, race, gender, and vital status, and provides graphic reports.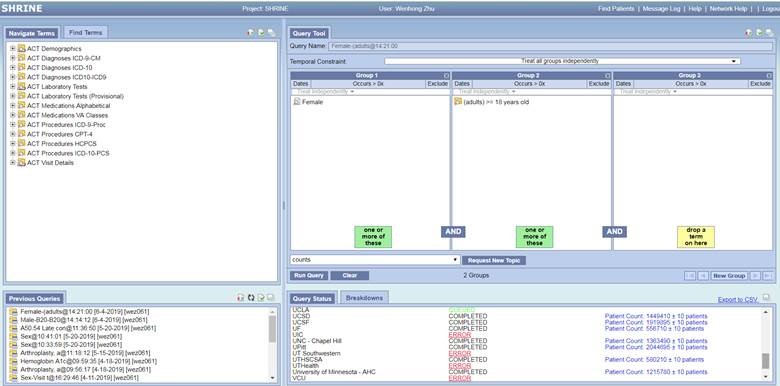 Contact and Help
For any other questions regarding the ACT Network, please contact the Application Support Team or phone (858) 534-0555.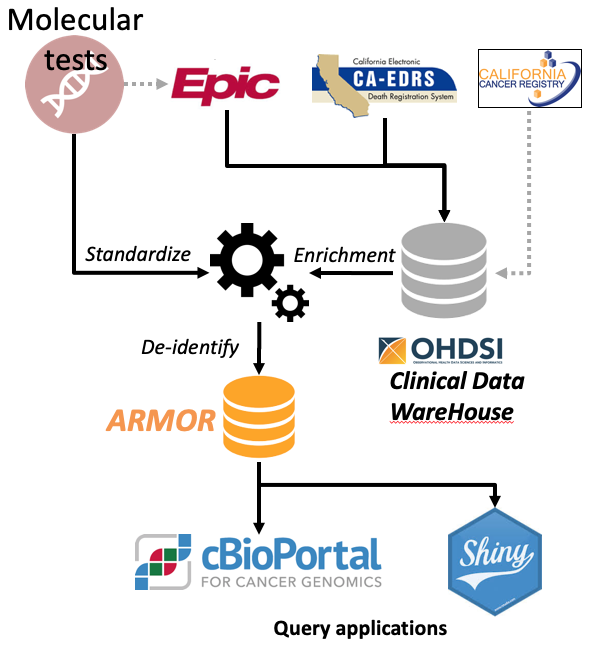 ARMOR is a large-scale data registry designed to advance precision oncology. ARMOR aggregates clinicopathological and clinical genomics data from the Electronic Health Record using automated and real-time collection of both molecular and clinical information. This resource enables UCSD Health investigators to rapidly validate research findings in an independent, real world patient population, develop predictive models, test novel therapeutic paradigms and document patient trajectories.  
ARMOR is available to UCSD investigators through a UCSD cBioportal instance hosting de-identified clinical genetic results and partial clinical information from patients who underwent tumor sequencing as part of their clinic care.  Source data can be accessed by approved users through the ACTRI Virtual Research Desktop. ARMOR is approved under the Molecular Oncology Registry protocol (UCSD IRB 200373) and maintained by the Center for Computational Biology & Bioinformatics with support from the Moores Cancer Center, Altman Clinical & Translational Research Institute and Vice Chancellor for Health Sciences.
**Select Biomedical Informatics->ARMOR
Clinical Pipe is an EHR-to-EDC connector that securely pushes 50-80% of total trial data from one system to the other, with a few mouse clicks, without the need for manually transcribing it. The BMI team has established a workflow to build connections integrated with UCSD Epic EHR to streamline the secure data transfer for approved sponsored studies.
Clinical Pipe services bring many benefits to clinical research. Upon setup and configuration for integration with the UCSD Health EHR, benefits for sponsored studies include the following efficiencies:
Faster, because data is typically transferred the same day it's entered into the EHR. You don't have to wait for it to be transcribed into the EDC (which takes on average 2 weeks, but sometimes over a month).
Data integrity, because there are no transcription errors.
Compliance, because any data transferred via the validated application does not need to be source verified.
- High Security and Data Privacy Controls
-Type Il SOC 2 certified solution
- Meets Security and Data Privacy Rules (HIPAA/HITECH, NIST CSF, GDPR or US/States)
- Meets FDA Part 11 & ICH/GCP rules, EMA, and MHRA
Data Types and Formats supported for Secure Transfer

Requesting Study Configuration
For study setup requests, please submit your information at the button below. An analyst from our team will be in touch to coordinate a consulation meeting and answer any questions you may have.

ACTRI – NIGHTINGALE Platform
Clinical research today often requires real world data (RWD) from electronic health record (EHR) systems.  In the 2021 calendar year, the UCSD ACTRI Data Concierge Extraction Service (DECS) securely provisioned over 96 data sets for IRB approved research totaling 100 billion data points from nearly a million unique individuals. The demand for data is so intense, request turnaround times have lengthened to over 12 weeks (Dec 2020).  
Clinical research often involves novel hypothesis generation and asking insightful scientific questions, but it is equally clear that rapid access to data is also an essential component for generating useful biomedical discoveries in a timely fashion. 
The UCSD Health Nightingale Initiative, has the goal of establishing the infrastructure and processes to allow rapid access to disease/device/drug cohort-based data sets to investigators within a secure HIPAA-compliant "research cloud" (enclave). We believe the benefits of providing rapid access to these data sets in a protected "enclave" will help accelerate biomedical research while incurring minimal risk.
Data Registries Available
UCSD_Research
The data sets are created as de-identified HIPAA Limited Data Sets.  Each patient record has a longitudinally preserved pseudo-identifier, preserved true dates, and zip codes. Addresses are redacted. The data is refreshed on a recurring basis and available to approved users in the UCSD Health Research Secure Cloud. Data is OMOP derived and stored in secure data repositories in AWS research cloud, and accessible from the Databricks and Amazon RDS PostgreSQL instances.
UCCORDS
Combined data from collected from all UC Health EHR records consisting of covid tested patients. This dataset follows contains COVID cohorts with various data phenotype standards. Updates are processed monthly as a refresh when data is collected in coordination with the UC Health Data Warehouse group. Many of the primary identifiers have been removed, however provisions within the data use agreement still need to be followed for protection of the limited dataset under HIPAA, state laws and local policies.
Data Analytics Applications
The Databricks application environment is a secure notebook-style development interface, that supports running R, Python, Scala as well as SQL code. Researchers can leverage the data registries made available as database schemas for direct analysis.  System users are automatically provisioned a compute cluster, for the notebook development application to execute custom analysis code. Each user's notebook with custom code can also be shared with other users for collaboration. Notebook templates with pre-defined code snippets are also provided in consultation with the BMI team, for efficient and seamless processing of common analysis routines.
Access the data registries from AWS a PostgreSQL server to execute custom SQL queries. Researchers can leverage elastic scaling with our datasets deployed to secure cloud services and output data for post-processing analysis. Resultant data can be integrated with ACTRI Virtual Research Desktop (VRD) applications pre-installed with compute images (R-Studio, Python, SPSS). All PostgresSQL compatible applications such as PGAdmin are supported for data query and management and included by default within the VRD for easy access.
Compliance and Security
Data Use Agreement:
UCSD Investigators must apply for access and attest a data use agreement (DUA) for access to the UCSD_Research, UCCORDS and future available registries, in which they agree to abide by a number of conditions, including not attempting to re-identify individuals even in the enclave. We have coordinated with UCSD IRB, which has determined the use of these de-identified limited data sets satisfy the definition of not human subjects research and their use in the enclave would not be regulated research.
Not Sharable:
Nightingale Registries available under these provisions (not regulated research, cohort-specific data sets furnished as a limited data set under an internal data use agreement) would not sharable outside of UCSD Health. If sharing is desired for research, or if further identification of participants is needed, the investigator must undertake the standard process of obtaining IRB and Health Data Oversight Committee (HDOC) approval for such sharing.
Restricted Data Egress from Enclave
Access to Nightingale Registries, as is also required with UC-Wide research data sets, can only be accessed within the UCSD Health Secure Research Cloud (the research enclave). This environment is sanctioned for PHI by the UCSD Health Chief Security Officer (CSO). Approved data platforms have been configured to restrict data download and other forms of exfiltration. Researchers are expected to comply with security guidelines and not attempt to circumvent access restrictions using any other technical methods.
 
Requesting Nightingale Data Services
For study setup requests, please submit your information at the button below. A analyst from our team will be in touch to send you the necessary Data Use Agreements (DUAs) via DocuSign. Once your terms of use have been signed, account activation along with instructions will be sent to you for access to the services.
The Data Extraction Concierge Service (DECS) is a service that pulls data from the UCSD EPIC Electronic Medical Records system to provide UCSD patient and health data extracts for research purposes. This service allows to identifies specific patients, and extracts identified, de-identified, or limited patient-level datasets from electronic medical for clinical research projects. An approval by the Institutional Review Board (IRB) is required for extracting identified and limited datasets. Our support team will execute queries on the Clinical Data Warehouse for Research (CDWR) and return results to users.
Functionality
 The data extract can include many different types of information, such as:
Patient demographics
Visits
Diagnoses
Medications
Lab results
Procedures
Insurance
Radiology images
Any data visible in Epic can be included in an extraction request. Requests can be:
simple: e.g., "All female patients diagnosed with lung cancer in 2016"
very complex e.g., "Patients seen in 2012-2016 that presented with specific diagnoses within 3 months of an ER visit, including all culture labs, antibiotic medications, and surgeries".
DECS delivers results to the requester through a dedicated Virtual Research Desktop (VRD). By default, requested data are provided in a Microsoft Excel workbook (.xlsx), but other data formats are supported.
Access
To request DECS services follow the request services button on top of the page.
Select "Biomedical Informatics" / "Data Extraction Concierge Services"
The following are needed:
Details on the P.I. and the requester (if different).

IRB# (unless proposed activities are not considered involving human research).

A charge

index for billing DECS service.

The details of your request:

Inclusion criteria

Exclusion criteria

Date range for the data

What data you want retrieved – you can request multiple sets of related data (e.g., demographics for the matching patients, plus lists of medications administered in ED encounters, and notes from phone encounters).
Tips:
For diagnosis criteria, please specify all of the ICD-9 and ICD-10 codes you need. Note that we do need ICD-9 as ICD-10 was only mandatory after 1 October 2015; earlier diagnoses will include ICD-9.

For procedure criteria, please provide specific CPT codes.

With procedures, medications, and labs there can be multiple EPIC entries for each name – your DECS analyst will likely need to review the lists with you to specify exactly which items should be part of your request.

Be very specific about which data fields you require in the data results
Access to the DECS results VRD are only initially granted to the requester and/or PI. Only individuals listed in the IRB submission can be allowed access to the VRD. All VRD users require UCSD AD accounts.
Non-UCSD requests for DECS services normally require a UCSD P.I. sponsor, who will be responsible for the data generated. In addition, a legal data access agreement may be required.
Cost
The current recharge rate for DECS services is available here.
Generally, the final cost of a DECS request is proportional to its complexity: Number of elements (variables) to retrieve, number of inclusion and exclusion criteria, and how easy it is to retrieve the requested data.
As part of the initial review meeting, your DECS analyst can generally provide an estimate for the time and cost. It's difficult to provide a firm quote, as each DECS request is unique – as work proceeds we can generally improve the estimate.
Some broad guidelines:
Very simple requests: 1-3 hours (<$400).
Common requests: 4-6 hours ($450-$700).
Complex requests: 7-9 hours ($800-$1,000)
Very complex requests: 10+ hours ($1,100+)
If your data budget is very tight, we can often organize your request into multiple "phases", to meet your key requirements first, and the rest if the budget allows.
Contact and Help
For any other questions regarding DECS, please contact the Application Support Team or phone (858) 534-0555.

REDCap (Research Electronic Data Capture) is a secure, web-based application for building and managing online surveys and databases.
REDCap provides automated export procedures for seamless data downloads to Excel and common statistical packages (SPSS, SAS, Stata, R), as well as a built-in project calendar, a scheduling module, ad hoc reporting tools, and advanced features, such as branching logic, file uploading, and calculated fields.
Functionality
Electronic Data Capture
    Design of forms for electronic data capture
    Import/export of data
    Secure storage of data, documents, and files
    Online surveys
    Mobile, offline collection of data
    Reporting/data analysis
While REDCap may be used to store PHI, it is not CFR 21 Part 11 compliant. If your project requires compliance with CFR 21 Part 11, you will need to use the Velos system.
Access
REDCap is available to all UC San Diego faculty and staff, and to users outside the organization who have sponsorship from UC San Diego faculty. To gain access, all REDCap users must have UC San Diego Active Directory (AD) system credentials (contact ITS Service Desk for credentials)
To request access to REDCap, follow the request services button on top of the page.
Select "Biomedical Informatics"/ "REDCap Access"
Training
Once granted access to the REDCap application, all users have access to extensive training videos, located on the REDCap home page.
The REDCap Wiki is a tool available to all REDCap users to post questions to the UCSD REDCap community.
Contact and Help
For any other questions regarding REDCap, please contact the REDCap Application Support Team or phone (858) 534-0555.
The UC Health Data Warehouse (UCHDW) pulls a subset of the data from the Electronic Health Record system and allows investigators to query patient information in a HIPAA-compliant manner.
The UCHDW currently holds data on nearly 6 million patients seen at a UC facility since 2012. These patients received care from nearly 100,000 health care providers in over 200 million encounters, with nearly 200 million procedures, more than half a billion medication orders, and with over 2 billion vital signs measurements and test results. Over 600,000 of these patients are primary care patients.

Access to this information requires technical familiarity and ability to write code in R, Python, or Spark SQL, that queries the deidentified clinical data. The BMI team may assist to provision access directly to the UCHDW data. If assistance is needed in preparing the customized queries, there will be a recharge fee.
To request access, please contact the Application Support Team.

Tableau is a powerful and fast-growing data visualization tool widely used in the Business Intelligence Industry. It helps its users to simplify raw data into an easily understandable format.
Analysis is very fast with Tableau — using worksheets and dashboards to create charts and diagrams. Tableau makes it easy to present data in a way that can be readily understood by professionals at any level in an organization.
Tableau has many features including:
Data Blending
Real time analysis
Collaboration of data
Best of all, the Tableau application does not require of its users any technical or programming skills to operate.

Velos eResearch is an integrated software system for managing clinical trials. The software links to the UCSD Health's Epic Electronic Medical Record System to provide improved information and integration for clinical research projects.
One module within this platform, called eSample, will track biological samples and link them to the Electronic Health Record.
A robust support team assists investigators in implementing their protocols, study budgets, and calendars.
Functionality
Velos eResearch is a web-based system that supports:
Creation of budgets
Creation of protocols with calendars
Scheduling of subjects
Electronic case report forms
Tracking visits and events
Creation of invoices
Reporting
Access
It is mandatory that all new users attend Velos CRB training session, upcoming training schedule is available on the Velos Wiki. To reserve a space for the Training, please e-mail ctri-velos@ucsd.edu.   Once users have attended a training session and submitted a completed and signed access request form, access to the Velos Application will be granted.
To request access for Velos Application follow the request services button on top of the page.
Select "Biomedical Informatics" / "Velos Access"
Velos CRB Training
The Application Support Team conducts detailed in-depth hands-on Velos CRB training sessions twice a month.
Once granted Velos access, the Velos CRB training manuals are accessible within the Velos application under the question mark (?) icon in the upper right corner.
Training material (manuals and videos) are also available on the Velos Wiki webpage.
Custom trainings tailored to your study needs can be provided: eSampling, budgeting, reporting etc.
Contact and Help
For any questions regarding Velos (general inquiries, custom trainings etc),  please contact the Velos Application Support Team or phone (858) 534-0555.

The Virtual Research Desktop (VRD) offers researchers a secure way to store and access their research data.  It allows the hosting of a desktop operating system on a centralized HIPAA-compliant server that is managed by the ACTRI Biomedical Informatics Team. VRD access is limited to users with a valid UCSD Active Directory account and multi-factor authentication through Duo. For extra security, the VRD environment is self-contained and allows no access to printers, internet, email or external drives.
VRD can also be customized to include your own licenses and/or applications.
Functionality
Increased productivity with access to the data from anywhere.
HIPAA data is stored at the UCSD data center where security can protect against leaks.
Centralizing desktop execution in the data center reduces the number of data paths that security must inspect and streamlines compliance with audit reporting requirements for the use of personal health information (PHI) and other regulated data. Since the data that is accessed from the VRD is never stored on the end user's device, the need for data protection is lessened.
Easy to setup secure group-level access to PHI.
Upon request, data may also be backed up and archived.
Access
Currently VRD is a free service provided by BMI. To request VRD access follow the request services button on top of the page.
Select "Biomedical Informatics" / "Virtual Research Desktop"
Registration to the UC San Diego Health Duo is also needed in order to log in to your VRD.
Data
Data in the VRD shared folder is removed after 30 days – this shared folder is used to deliver results (such as DECS) to the end user and is not intended for long-term storage; users are expected to move the data to the VRD personal folder. Data in the VRD personal folder is preserved for the lifetime of the VRD account.
Data Import/Export
For all data migration requests, please email the Application Support Team with the "VRD:" in the subject.
For import please include:
File names to import
File types (Excel, text, etc.)
File sizes
Where is the data from? (Ex. University of Wisconsin)
For export please include:
File names to export
Computer IP or Hostname
Justification for the export
Data exports will only be allowed onto UCSD Health System controlled computers which are secure and encrypted.
Resources
Connecting to CTRI SFTP Server
Contact and Help
For any other questions regarding the VRD, please contact the Application Support Team or phone (858) 534-0555.
Contact the Support Team at:
Phone: (858) 534-0555
ctri-velos@ucsd.edu
ctri-redcap@ucsd.edu
ctri-support@ucsd.edu
Please put application/service name in the e-mail subject.
Nguyen Trieu, MHIM
Chief Technology Officer
Phone: (858) 822-0111

Perry Shipman

CR Technology manager

Kerry Knight

Applications Support Manager

For additional information about BMI or Recharge rates, please contact Nguyen Trieu or Perry Shipman