Dissemination and Implementation Science Center (DISC)
Dissemination and Implementation Science Center (DISC)
Mission
Establish UC San Diego as a nationally and internationally recognized flagship for dissemination and implementation (D&I) science through training, technical assistance, community engagement, and research advancement.
Vision
Advance UC San Diego's public health impact locally and globally through D&I science.
San Diego Leadership Education in Neurodevelopmental and Related Disabilities (San Diego LEND)
The program is now closed to applicants. Thank you!
The San Diego Leadership Education in Neurodevelopmental and Other Related Disabilities program (San Diego LEND) is a unique, interdisciplinary leadership training program funded by a grant from the Health Resources and Services Administration (HRSA). The San Diego LEND is administered through the UC San Diego Altman Clinical Translational Research Institute DISC in collaboration with San Diego State University, Rady Children's Hospital-San Diego, and government and community agencies within San Diego and Imperial Counties. San Diego LEND is part of a national network of 60 LEND training programs.
The San Diego LEND program provides interdisciplinary and leadership training to graduate students, postdoctoral fellows, medical residents and fellows, practicing professionals, family members, and self-advocates focused on applying implementation science to promote equity in access to evidence-based services for individuals with autism spectrum disorder or other developmental disorders (ASD/DD). Training activities are scheduled from August through May and there are multiple training intensity options ranging from 40 to 300 hours over the training period.
What makes San Diego LEND unique? 
San Diego LEND faculty have expertise applying implementation science, the scientific study of methods and strategies to promote the use of evidence-based practice and research by practitioners and policymakers, across community service systems caring for individuals with ASD/DD. 
We offer specialized training in implementation leadership, which is strategic leadership focused on supporting the use and sustainment of evidence-based practices. 
We leverage strong

 

community partnerships

 

and

 

multi-institutional collaboration

 

offering opportunities to use the strengths and expertise of both academic institutions and community partners to target service disparities and promote equity in access to evidence-based ASD/DD services.
We strive to provide interdisciplinary training that is responsive to the unique characteristics of our border community of San Diego and Imperial Counties with the goal of improving service and clinical outcomes for our residents.
Who can become a LEND trainee? 
Graduate students, postdoctoral fellows, medical residents, and fellows looking to enhance their training and build expertise in working with ASD/DD populations.
Professionals dedicated to caring for children with ASD/DD who are looking to enhance their clinical expertise and leadership skills.
Family members of neurodiverse individuals interested in providing the family perspective to fellow trainees and receive training and mentorship in advocacy and leadership
Autistic/Neurodiverse individuals interested in sharing their lived experiences and receive training and mentorship to develop their self-advocacy and leadership skills 
Why become a LEND trainee?
Benefits to being a San Diego LEND trainee include:
Receive training from LEND faculty from UC San Diego, San Diego State University, Rady Children's Hospital, and the community with expertise in implementation science and community partnerships across service systems 
Opportunity to participate in innovative training and ongoing seminars focused on Implementation Leadership to promote equitable access to evidence-based care for individuals with ASD/DD
Targeted training in culturally responsive care for under resourced communities
Opportunity to provide technical assistance/consultation and produce policy briefs to improve the system of care for individuals with ASD/DD 
One-to-one faculty mentoring with core faculty members including mentored completion of the Individualized Development Training Plan and a Community Action Project 
Unique chance to learn with faculty and colleagues across disciplines
Individualized program scheduling to accommodate working professionals and community members
Stipend payment (for some trainees)
The UC San Diego ACTRI DISC offers two membership categories: DISC General Member and DISC Investigator. 
Complete this 5-minute questionnaire and join DISC today!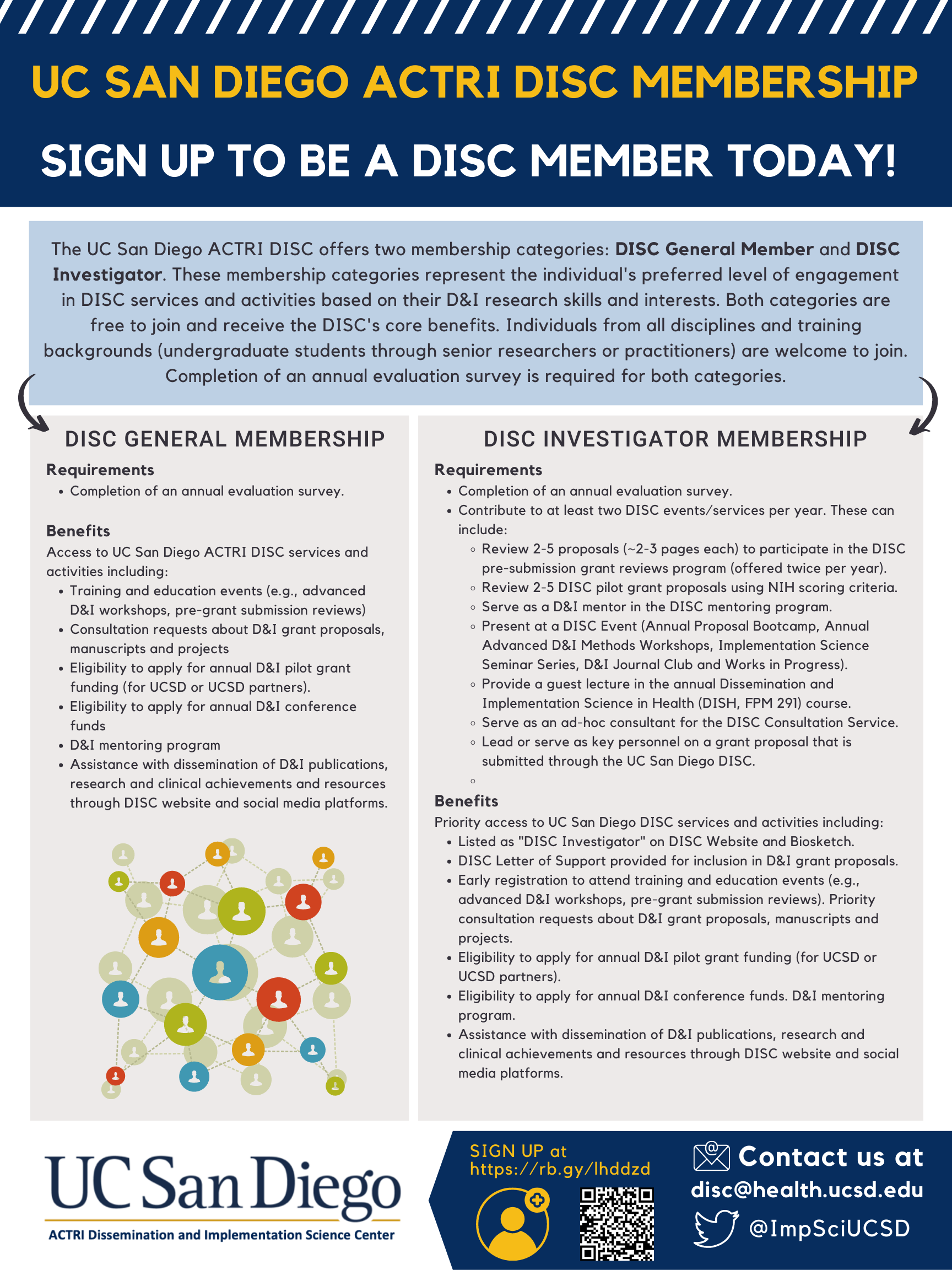 DISC Monthly Seminar
Monthly learning community to discuss the latest in D&I literature, workshop new proposals and learn from D&I experts.
DISC Seminar is held monthly on the 2nd Thursday of the month from 2-3:30pm.  Topic and location information sent in monthly emails.  Select recordings are available on the DISC Youtube channel.
Access seminar archives prior to 2019
Seminar Archives
Journal Club Date

Presenter/Discussant

Presentation

Readings & Resources

October 2019

Quality Improvement and Improvement Science for Geriatrics Research & Practice

"Creating a Learning Health System through Rapid-Cycle, Randomized Testing"

November 2019

VA Merit Resubmission

December 2019

Part I of a mini-series focused on Innovative Methods in D&I Research

"Novel approaches to implementation research: The utility and application of comparative configurational methods"

January 2020

Co-Production of Evidence to Promote Healthy Weights

Part II of a mini-series focused on Innovative Methods in D&I Research
"Core Functions and Forms of Complex Health Interventions"

February 2020

Part III of a mini-series focused on Innovative Methods in D&I Research

"Stepped Wedge Design"

March 2020

Part III of a mini-series focused on Innovative Methods in D&I Research

"Systems Thinking in Implementation Research"

April 2020

"Service contracting as a bridging factor in implementation
and sustainment of evidence-based practices"

May 2020

"Reframing Implementation Science to Address Inequities in Healthcare
Delivery"

June 2020

"Under the Hood of Organizations Driving the Dissemination of
Evidence-based Practices" 

July 2020

"Improving EBP Training to Increase Access to Care for Veterans with TBI"

August 2020

"RE-AIM Evolution, Iterative Use, and Health Equity: Applications and Ideas for Feedback"

September 2020

"Using the EPIS Framework for Criminal Justice System Change"

October 2020

"Applying the Exploration, Preparation, Implementation, Sustainment (EPIS) Framework to Testing Strategies for Scaling Evidence-Based Mental Health Interventions in Fragile and Low-Resource Settings: An Example from Sierra Leone"

November 2020

"Racial Equity and Role of D&I Science: Ongoing Series"

December 2020

"Authentic Community Engagement: Tools and Challenges"

January 2021

"Engaged Approaches to Capacity-building For Community-based Implementers"

Email disc@health.ucsd.edu to request presentation materials.

February 2021

"Ad-Hoc Adaptations Made During Delivery of a Family Therapy Intervention in Eldoret, Kenya"

March 2021

"DISC Member and PhD Candidate in Special Education at Indiana University, will present on his F31 proposal."

April 2021

"Novel Community Engagement Methods: Insights from COVID-19 Implementation Research."

May 2021

"Order Whatever You Want, as Long as It's from the Menu? Preliminary Results and Reflections on Adapting and Implementing Collaborative Decision Skills Training for Veterans with Psychosis"

June 2021

"Precision Health: Integrating Systems Science, Optimization Methods, and Implementation Science for Advancing a Community-Centered Learning Population Health Approach"

July 2021

"Solution-focused research can achieve its goals more rapidly by progressing through the 3 stages of create, trial, and sustain"

August 2021

"The FRAME-IS: a framework for documenting modifications to implementation strategies in healthcare"

September 2021

Ross Brownson & Elva Arredondo

"Expanding Implementation Research to Prevent Chronic Diseases in Community Settings" and "Implementation science should give higher priority to health equity"

October 2021

Lindsey Wade & David Mier

"San Diego Community Health Needs Assessment – Opportunities for Engagement & Collaboration"

November 2021

"Global Mental Health and Implementation Science: Perspectives and Opportunities in Ukraine"

December 2021

"Methods of Stakeholders Engagement"

February 2022

"Rapid Cycle Improvement Science Methods to Improve Teacher Training"

March 2022

"Cost Effectiveness Analysis in D&I Science"
Due to limited staff capacity, the DISC Consultation services are currently only available to those from ACTRI-affiliated institutions listed here. 
To request DISC Consultations, please complete the Consultation Request Form. The form will ask questions about you and your D&I project. It will take approximately 5 minutes to complete. The information that you share will be reviewed by the DISC Consultation team on a rolling basis. Please note that the DISC Consultation Team requires 7-10 business days to review and respond to consultation requests. Please review the Triage for Grant-related and Manuscript requests below for more detailed information about timeline and allowable requests. Consultations are not a guarantee for the consultant being able to serve as a Co-Investigator on the grant proposal. As part of our consultation services we provide resources, initial guidance for models, measures, and designs and we can make recommendations to connect you with others who could serve as Co-Investigators on your proposal, if needed.
Who can request a DISC Consultation?
Due to limited staff capacity, the DISC Consultation services are currently only available to those from UC San Diego ACTRI-affiliated institutions listed here. You must also be a current DISC Member to request DISC Consultation. To become a member, please join here.
DISC Resources
DISC/UCLA 3Rs Documenting Adaptations Workshop Recording - May 2022
National & International Resources
DISC Calendar of Events
ACTRI on Twitter