Translational Research Technology (TRT) center

 The Translational Research Technology Division (TRT) provides a one-stop shop of flexible laboratory-based services for translational studies to members of the ACTRI and external collaborators. We support a broad range of clinical and translational research projects by providing Biorepository, Sample Acquisition, and Laboratory (bio-analytical, and assay development) services.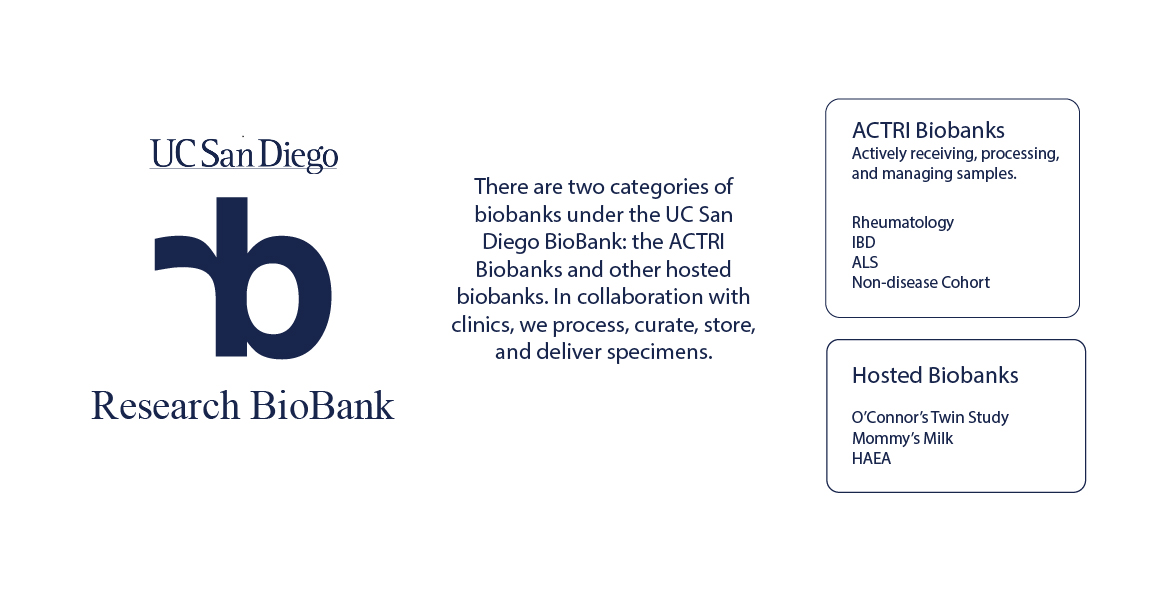 We provide full-service biobanking to CTRI and affiliated institutions. We encourage all forms of collaboration such as:
ACTRI biosamples (such as non-disease cohorts) and protocol

ACTRI provides existing clinical material from the repository
ACTRI prospectively collects and provides liquid or tissue clinical material for investigators

Investigator's IRB protocol

ACTRI collects samples for investigator and gives them to the PI for storage
ACTRI collects samples for investigator and stores samples for the PI
The investigator collects the samples and the ACTRI stores them

ACTRI Affiliated Biorepository protocol

ACTRI facilitates connecting the investigator with the manager of an Affiliated Biorepository (e.g., Arthritis Biorepository)
ACTRI can manage the Affiliated Biorepository and release the material under the PI's direction
 The TRT facilities include:
Secure storage of biospecimens in late model, remotely monitored mechanical and liquid nitrogen freezers
Coordination of collection and processing of biospecimens from the clinic to the Biobanks
Complete inventory control utilizing modern LIMS software
Bar-coding
Emergency response
Real-time reports on freezer temperatures
Regulated access to all archived material
Several software systems are available for managing the repository databases
Additional TRT services:
Process tissue and fluids, including DNA and RNA preparation, viable cells, frozen cells
Ship and receive clinical materials
Provide clinical informatics support, including Velos
Provide pathology services
Provide biomarker assay services (such as Mesoscale, ELISA, and qPCR)
At the beginning of the COVID-19 pendemic, the ACTRI took the lead to help UCSD develop an IRB approved comprehensive research biobank that is available for a myriad of research projects. This biobank was created by working with clinicians, patients and research teams to develop this institutional resource. A diverse governance committee assist with prioritizing projects and distributing samples in a transparent fashion based on scientific merit, feasibility and novelty. Should samples leave UCSD, additional project information and MTA will be required. 

Collections samples include plasma, serum and buffy coat from participants being tested for COVID-19 and remnant nasal swab samples. Virus status associated with samples is known.
Biomarkers are biological indicators that signal a changed physiological state due to disease or a therapeutic intervention. We measure biomarkers as either expression at the mRNA and protein level or as functional activity. The three principal uses of biomarkers are :
as surrogate markers of disease; 
as a proof-of-concept indicators, in that they aid in development decisions 
a means to understanding the mechanisms of action of drugs.
The Biomarker Laboratory provides analyte determinations on a variety of human and animal materials principally through immunoassays and quantitative PCR. Assays are provided at affordable cost to investigators carrying out clinical, translational, and basic research at UC San Diego and at our Partner Institutions. The Laboratory:
Performs all validated assays with internal and commercial QC in a timely manner.
Introduces and validates (GLP) new assays, as pilot studies, with commercial QC and internal quality assurance program (IQAP) support.
Helps physicians to develop and validate disease- and patient-oriented biomarker assays.
Works in tandem with the ACTRI Biomedical Informatics Division to provide secure data storage and retrieval.
Teaches and trains undergraduate and graduate students and junior investigators in laboratory techniques.
Helps PIs to develop protocols and procedures for collecting and storing samples.
The Biomarkers Laboratory currently offers over 125 validated assays. This number is growing, as we are continually adding new assays based on requests from ACTRI members or on anticipated needs using emerging technologies. If an assay is not available within the Biomarkers Laboratory, we will develop it in-house or assist in identifying a laboratory that performs the assay at a reasonable cost.
The Biomarkers Laboratory also offer training and full- or self-service access to specialized lab equipments (such as capillary electrophoresis, various plate readers, realtime quantitative PCR etc) via the Biomarker Open Wet Lab.
Address
University of California, San Diego
Altman Clinical and Translational Research Institute
9452 Medical Center Drive, Room L2E 330
La Jolla, CA 92037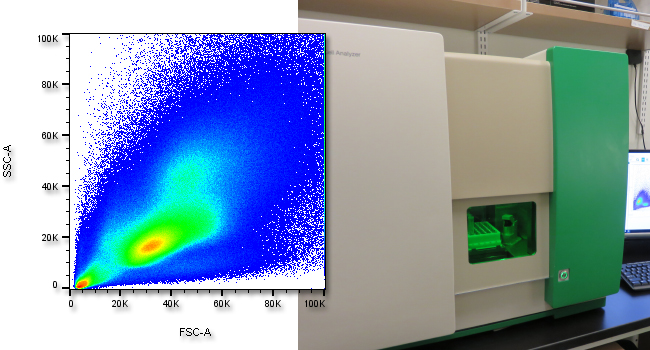 The Flow Cytometry Core facility provides a high-end flow cytometer to identify, analyze and quantify cells in several sample types. It is equipped with a ZE5 Cell Analyzer from Bio-Rad, which is a benchtop system used for analysis (not sorting). The ZE5 offers great flexibility in sample handling with the ability to use several sample formats, such as single tubes, tube racks (up to 40 tubes/rack), 96-well plates (U- and V-bottom) and 384-well plates. The built-in sample loader on the ZE5 minimizes hands-on time for sample loading, allows for sample mixing with adjustable orbital vortex shaker and provides active temperature regulation of samples. The ZE5 also has a new and innovative software allowing for easy experiment design and set-up.
The ZE5 in the ACTRI flow core has four lasers (violet (407nm), blue (488nm), yellow-green (561nm) and red (640nm), enabling detection of up to 15 fluorometric parameters, including SSC. The ZE5 is equipped with a ZE5-Eye monitor to ensure that researchers have the right filters in place for their experiments, avoiding errors associated with misplaced filters and loss of detection.
Conditions of using the facility
Presently, the facility is only offering self-operated use. Prior to self-operating the equipment, researchers must complete a two-hour training session. Assisted use may be available under certain circumstances and after discussion with the core manager.
Data:
Files in FSC folders (folders for saving data) in the flow core computer are deleted every first day in January, April, July and October. Please make your own copy of your data before the day. Deleted data cannot be recovered.
Location, hours and Contact information
Altman Clinical and Translational Research Institute (ACTRI)
University of California San Diego
9452 Medical Center Dr.
Suite L2 E317
La Jolla, CA 92037
Hours: 9 a.m. - 3 p.m.
For additional information, contact Myungja Ro, Core Manager.
David Boyle
Co-Director of Translational Research Technology
Department of Medicine
Phone: (858) 822-0784
Elizabeth Komives, PhD
Professor, Dept of Chemistry and Biochemistry
Phone: (858) 534-3058
Josh Hillman
Manager, Biomarker Services
Phone: (858) 246-2448
Andre Matti
Manager, Research Biobank Services
Phone: (858) 246-2444
For additional information regarding the TRT, its cores or services or for a consultation, contact the TRT Division: ctri-lab@ucsd.edu