Center for Excellence in Translational Immunogenomics (CETI)
Center for Excellence in Translational Immunogenomics (CETI)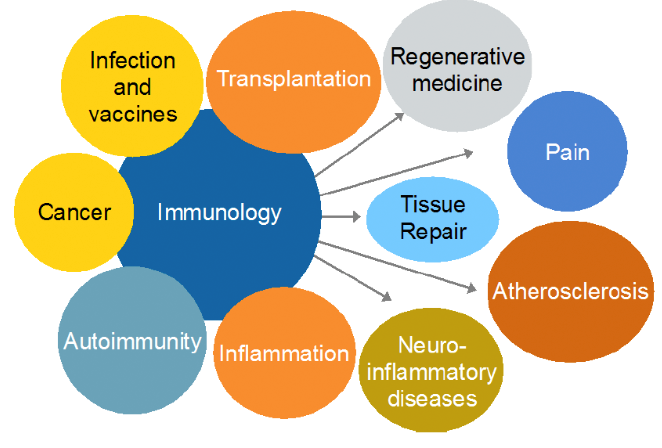 The immune system is central to many health issues, such as autoimmunity, infections and cancer. While traditional genetic approaches, including whole genome sequencing, are well-suited study to many diseases, technologies like epigenetics and epitranscriptomics that assess cell plasticity and adaptation to the environment are needed to understand immune regulation.
The UC San Diego Center for Excellence in Translational Immunogenomics (CETI) provides centralized genomics-focused translational research support applied broadly in the area of immunology. The overarching goal of CETI is to bring cutting-edge genomics approaches to new clinical applications and new investigators.
Creating clinician, basic and computational scientist partnerships is the pivotal first step for translational research in immunology. These teams apply cutting-edge technologies like epitranscriptomics and single cell sequencing to study clinical problems in immunology.
CETI facilitate the creation of multi-disciplinary translational immunology research teams. It enable immunologists to address clinically relevant questions and facilitate translation of their discoveries to the clinic by:
Providing support (such as consultation, coordination and project management)
Connecting basic scientists, clinicians, medical informatics experts and computational scientists from several ACTRI units (clinical research (CCR), genomics-optimized sample acquisition, processing and biobanking (Biobank), biomedical informatics (BMI), and computational genomics Center for Computational Biology & Bioinformatics (CCBB))
Helping research teams design studies, collect samples, analyze data and translate data into clinically actionable results.
The goal is to facilitate the development of rational therapeutics based on an understanding of genomic and epigenomic processes in immunology.
Training
CETI will create an environment that builds skills in translational immunology research. We will foster collaborations through consultation services that help researchers navigate through regulatory processes. We will also connect clinicians and basic scientists, provide education so they understand each other's fields and provide services that link their research skills to create durable partnerships.  The following CETI training offerings are currently under development:
Translational Immunology Workshop
Translational Immunology Symposium
CREST Module in Biomarker Validation
Consultation & Facilitation
As shown above, CETI will provide consultations, study design, project management and facilitation of multi-disciplinary translational immunology research by linking together ACTRI clinical, laboratory and computational services . We will optimize cohort identification, sample collection and processing for omics analyses. Biosamples and data will be linked to clinical phenotype through our informatics platforms such as the Clinical Data Warehouse for Research (CDWR). CETI will perform data analyses that associate immune phenotypes with multiple omics platforms that translate data into clinically actionable results and inform the development of rational therapeutics in immunology.
Leadership / Co-Directors
Kathleen Fisch, Ph.D.
Executive Director, Center for Computational Biology & Bioinformatics
Co-Director, CETI
Email: kfisch@ucsd.edu
Phone: 858-534-9452
Dr. Kathleen Fisch serves as the co-Director of CETI and Executive Director of the UCSD Center for Computational Biology & Bioinformatics (CCBB). The CCBB is a collaborative center that provides investigators with computational expertise to analyze large molecular datasets, with a special emphasis in the areas of genomics, transcriptomics, epigenomics, systems biology and translational medicine. CETI will leverage the expertise of the CCBB to provide investigators access to bioinformatics analysis and interpretation to advance translational immunogenomics.
David Boyle, M.D
.
Co-Director of Translational Research Technology
Co-Director, CETI
Email: dboyle@ucsd.edu
Phone: 858-822-0784
Professor David Boyle serves as the co-Director of CETI and is co-Director of the Translational Science Partnership unit of the CTRI. He has directed research programs focused on pathogenesis of autoimmune diseases and pioneered the use of synovial biopsy studies in arthritis to evaluate drug mechanisms of action. CETI will leverage his expertise leading the CTRI Biobank to provide investigators with genomics-optimized sample acquisition and processing.
For additional information about CETI, please contact Eugene Sato.